Technical Data
Thermostop is free-foamed PVC optimised for the construction industry. It combines excellent insulation values with high compressive strength.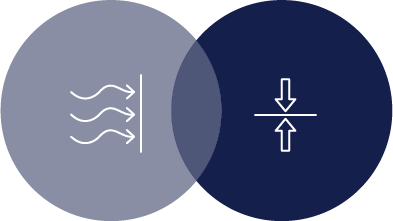 0,08 - 0,09 W/m
Low thermal
conductivity
> 10 N/mm²
High compressive
strength

light weight
> 0,70 g/cm³

flame retardant
B1

corrosion resistant
 water absorption < 1 %

recyclable
100%
Fire behaviour
All versions of Thermostop meet Fire Class B1 according to DIN 4102. In addition, the insulators are positioned within the fire-protected areas behind the thermal insulation.
Weather proofing
Thermostop material is weather proof and resistant against damp. Water absorption is lower than 1%. Thermostop contains no chemical softeners and is resistant against chemicals and corrosion according to DIN 8061.
Long-term properties
The insulator is subject to low thermal loading because of its location behind the insulation material. On the other hand, it remains under compressive stress. Thermostop provides a good long-term solution with minimal creep tendencies.
To distribute the compressive force at the screw-head, with Thermostop thicker than 10 mm, we recommend using large washers or adequately sized shims in the console foot.
Technical Data
Thermostop at   3 / 5 / 6 / 10 mm
DIN 53421 (Following)        DIN EN ISO 844
Compressive stress
(at 30% compression)
DIN 53421 (Following)        DIN EN ISO 844
These values are guideline limits at average bulk density. Small deviations may occur depending upon thickness. The indications presented in this technical information sheet are based on the information provided by the manufacturer of the material. No guarantee can be made concerning the validity thereof or results derived therefrom. Subject tomodifications.
Status 10/2021
We will be happy to advise and find the right solution to your current demand.